Are you considering a journey from Casablanca to Marrakech? If that's the case, prepare yourself for an extraordinary escapade. These two iconic Moroccan cities offer a blend of rich history, breathtaking architecture, and vibrant culture. In this comprehensive guide, we'll explore everything you need to know for a seamless and memorable journey, including transportation options, must-visit attractions, and local insights.
1. Getting from Casablanca to Marrakech: Your Options
There are multiple ways to travel from Casablanca to Marrakech, each with its benefits and drawbacks. The three most popular options are:
By Train
The most comfortable and convenient option. The journey takes around 2.5 to 3 hours, and tickets can be purchased at the station or online in advance. Trains are clean, reliable, and offer first and second-class options.
By Bus
A more affordable choice, with multiple companies offering services between the two cities. The trip takes about 3 to 4 hours, and buses are generally comfortable and air-conditioned. Bus tickets can be bought at designated stations or via the Internet.
By Car
Renting a car gives you the freedom to explore at your own pace, but keep in mind that Moroccan traffic can be challenging to navigate. The driving duration ranges from approximately 2.5 to 3 hours, subject to traffic conditions.
2. The Best Time to Travel Between Casablanca and Marrakech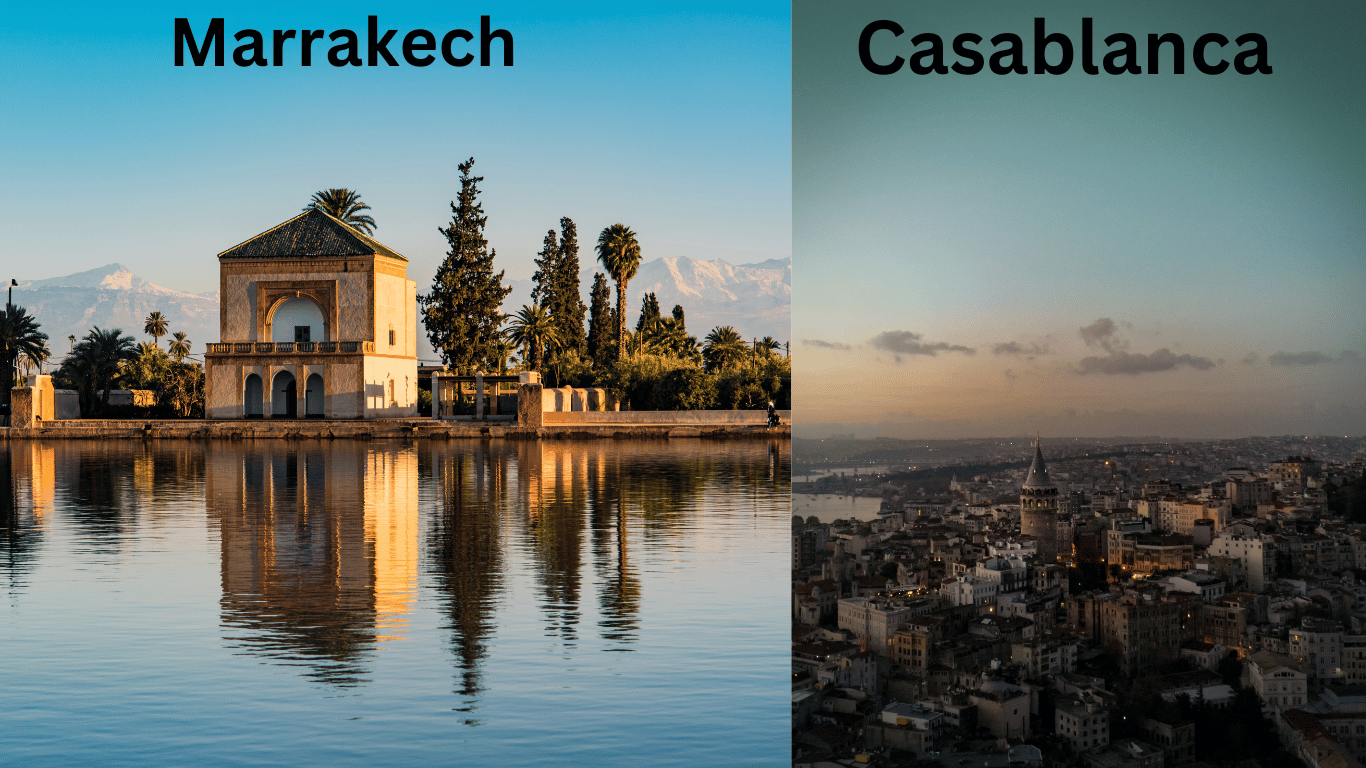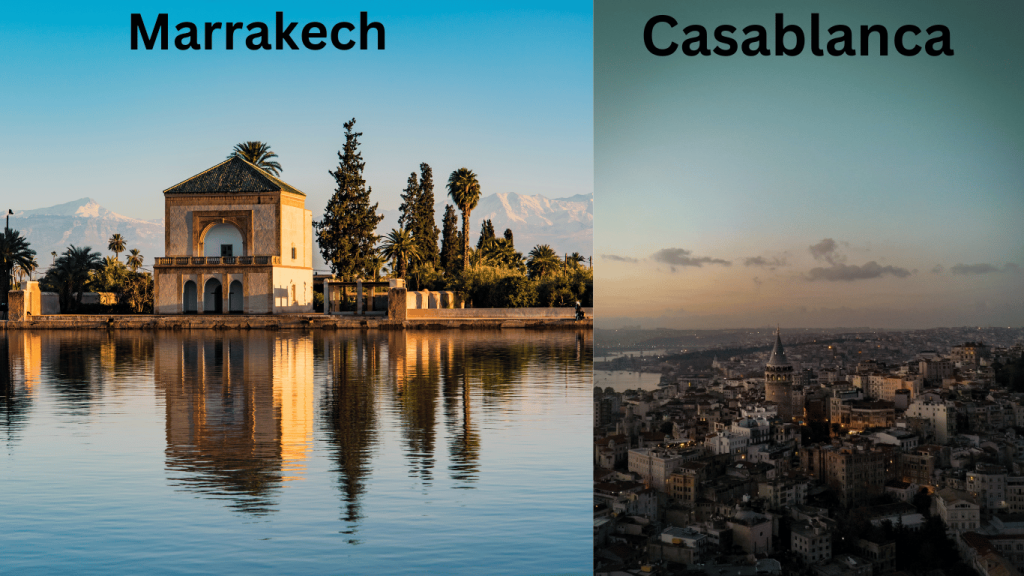 The ideal time to visit both Casablanca and Marrakech is during the spring (March to May) or fall (September to November) months. During these periods, the weather is more moderate, making it ideal for sightseeing and exploring. Summer months can be sweltering, while winters can be chilly, especially at night.
3. Casablanca: The Economic Hub of Morocco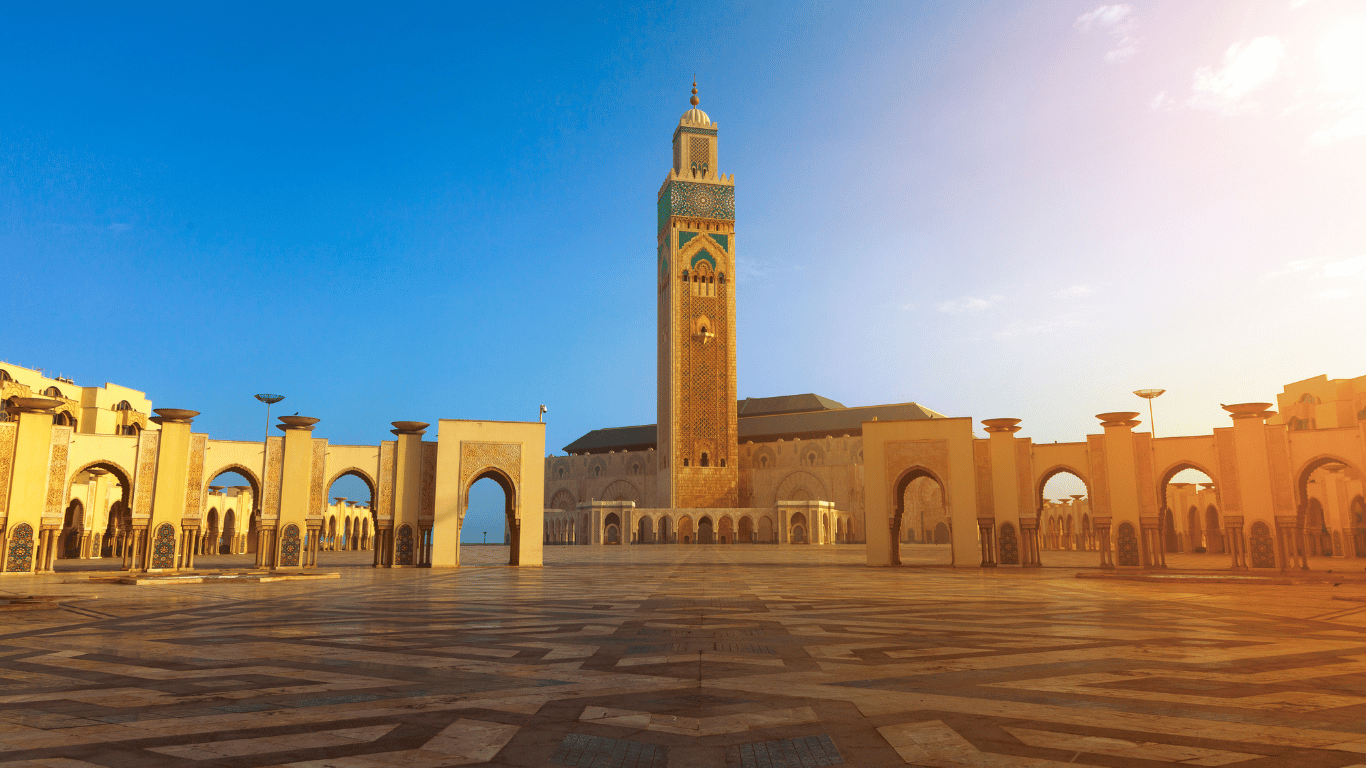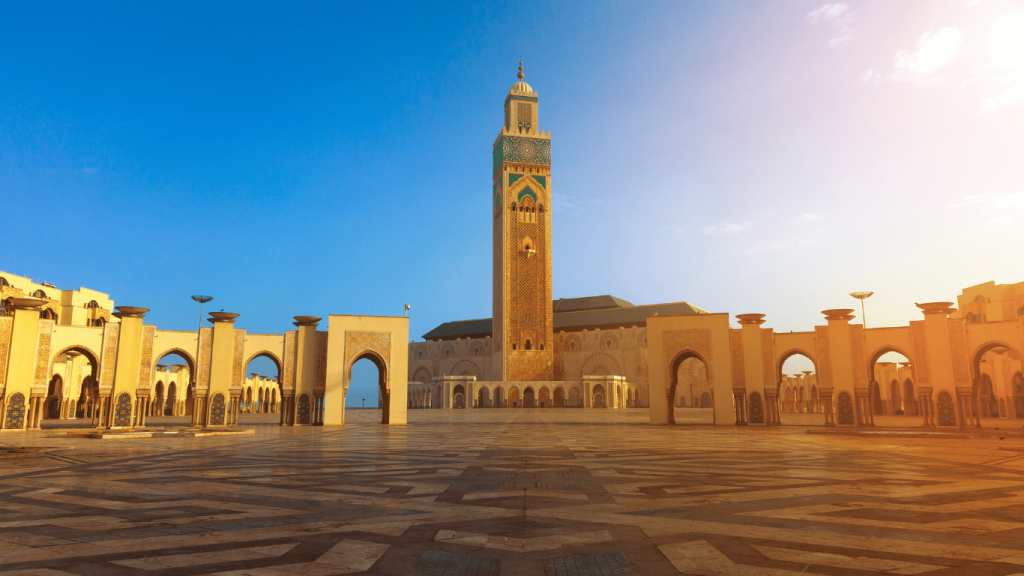 Casablanca, Morocco's largest city, is a thriving metropolis that perfectly blends tradition and modernity. Known for its bustling business scene, the city is home to numerous multinational corporations and serves as the country's economic powerhouse.
4. Must Visit Attractions in Casablanca
While in Casablanca, make sure to visit these iconic sites:
Hassan II Mosque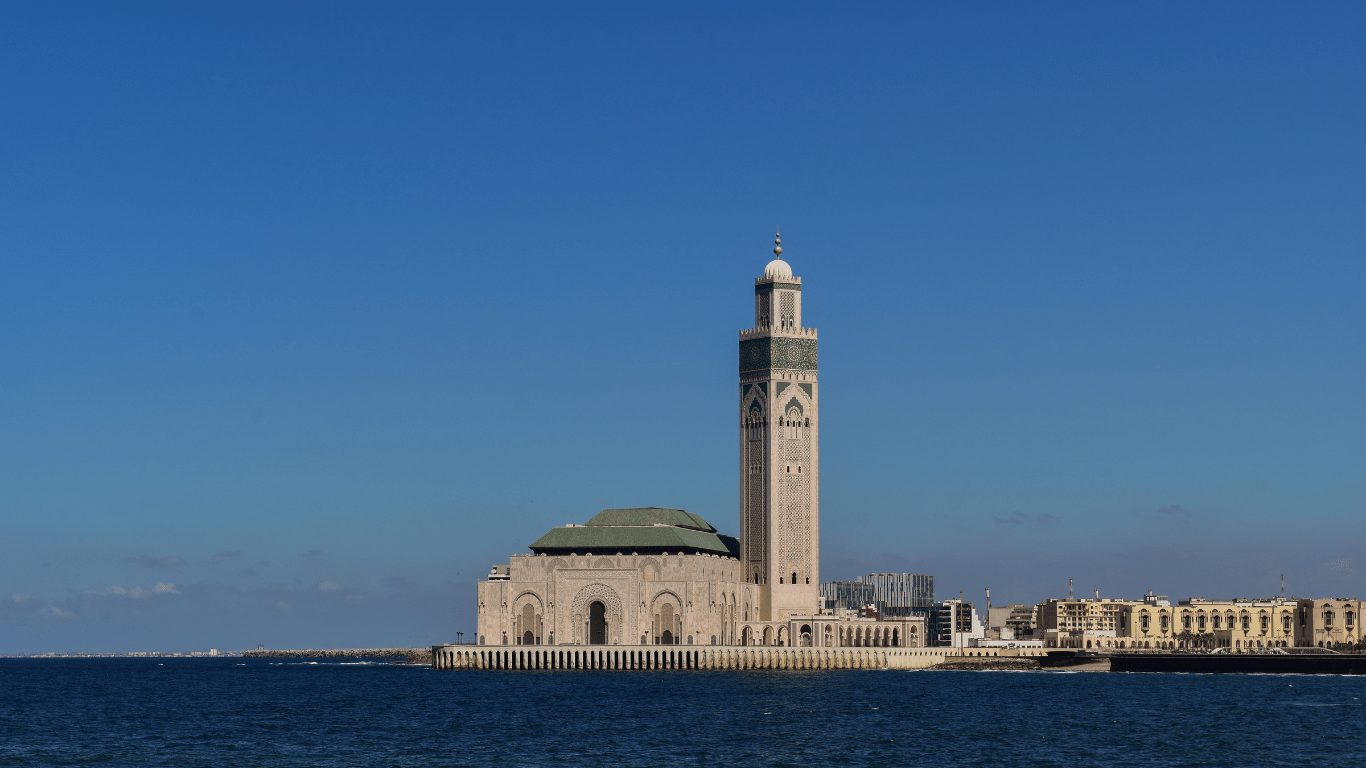 One of the largest mosques in the world, boasting stunning architecture and intricate details. Non-Muslim visitors are allowed to join guided tours to appreciate its beauty.
Royal Palace of Casablanca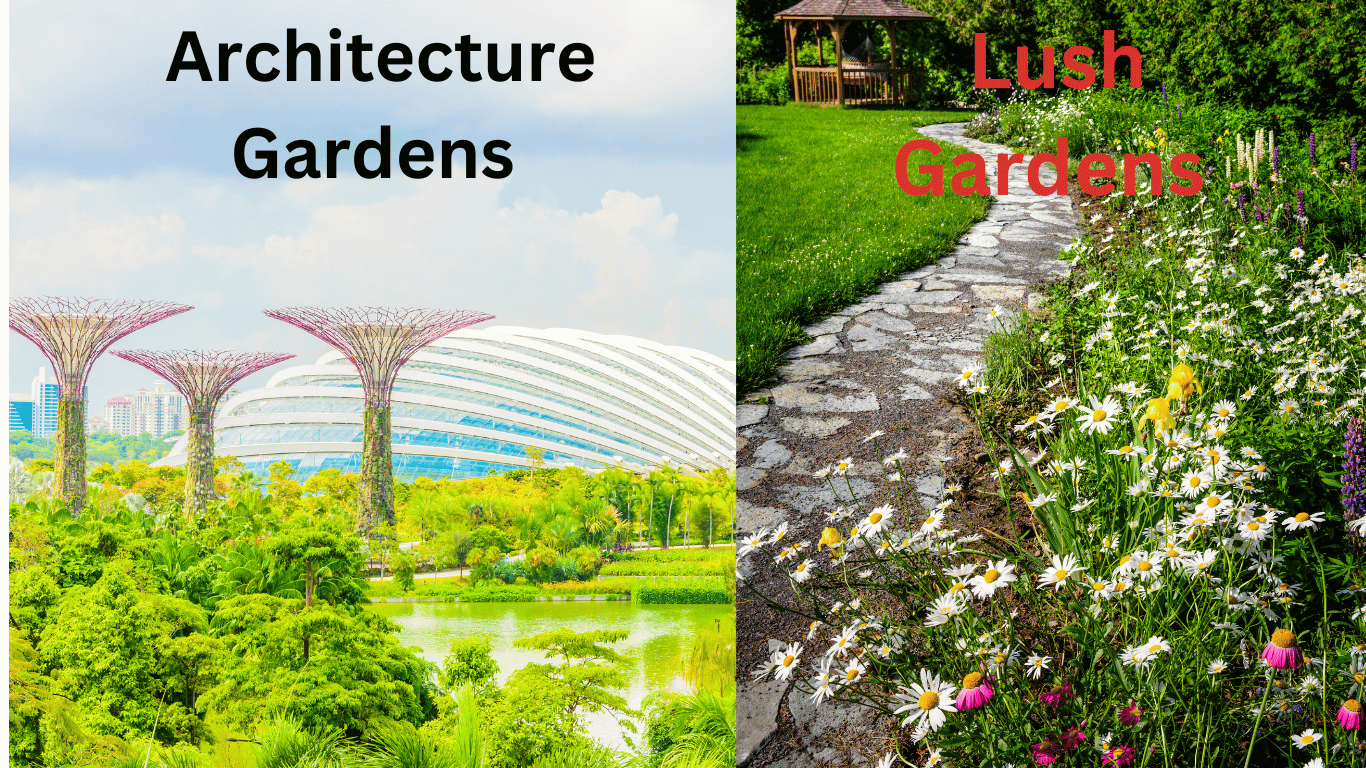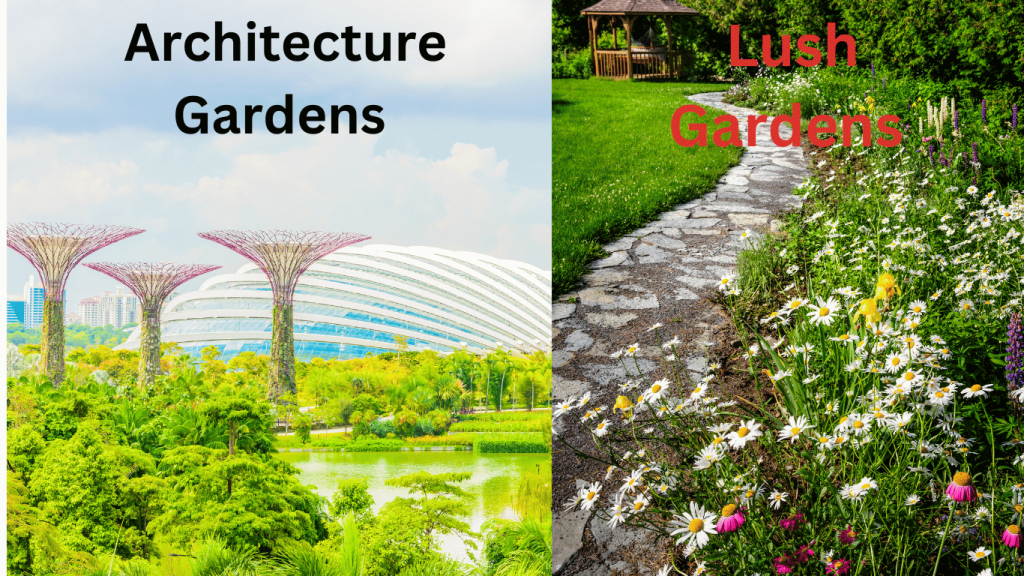 While not open to the public, this majestic palace is worth admiring from the outside due to its impressive architecture and lush gardens.
Old Medina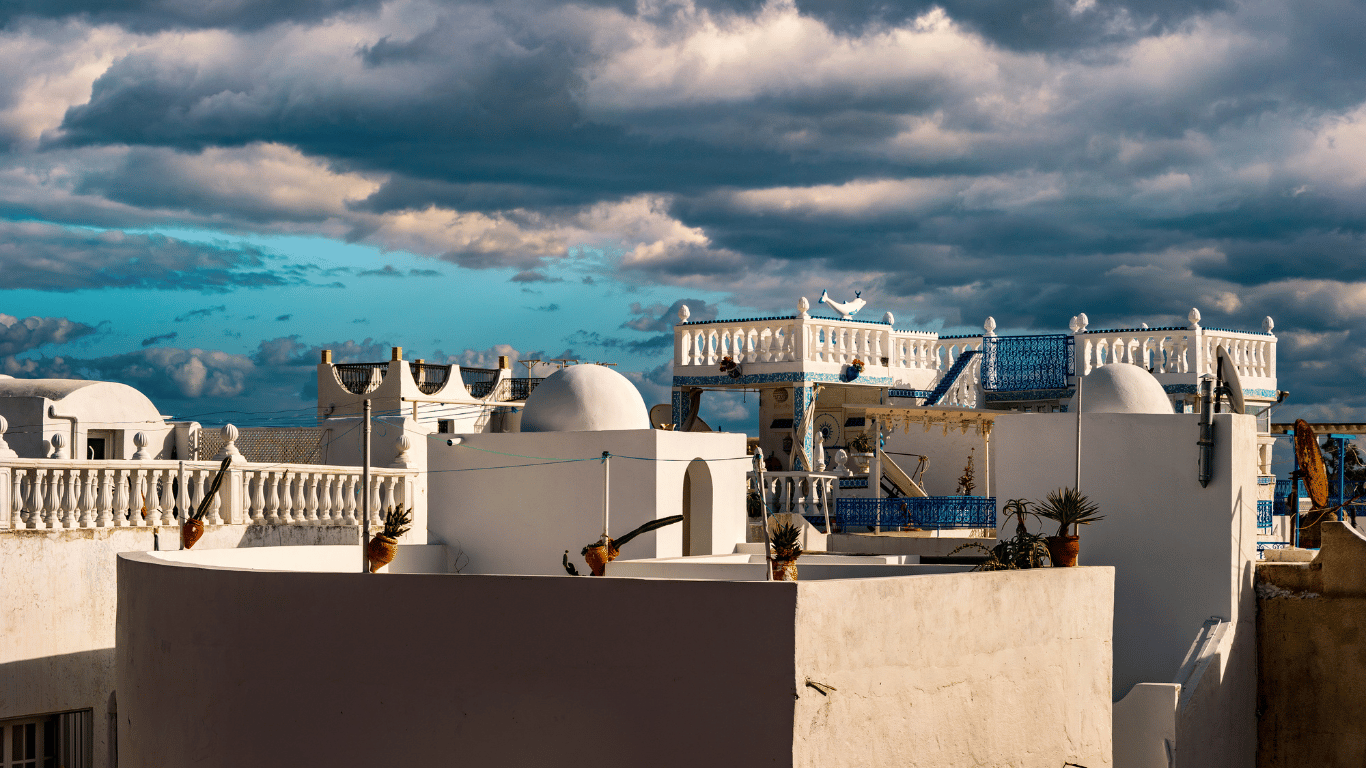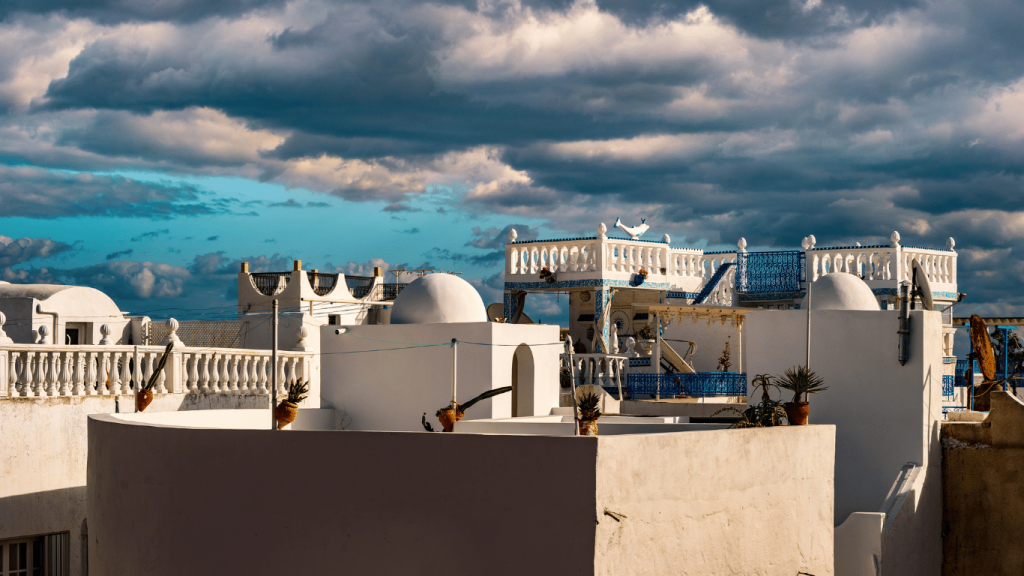 A historic district with narrow streets, traditional markets, and a glimpse into Casablanca's past.
La Corniche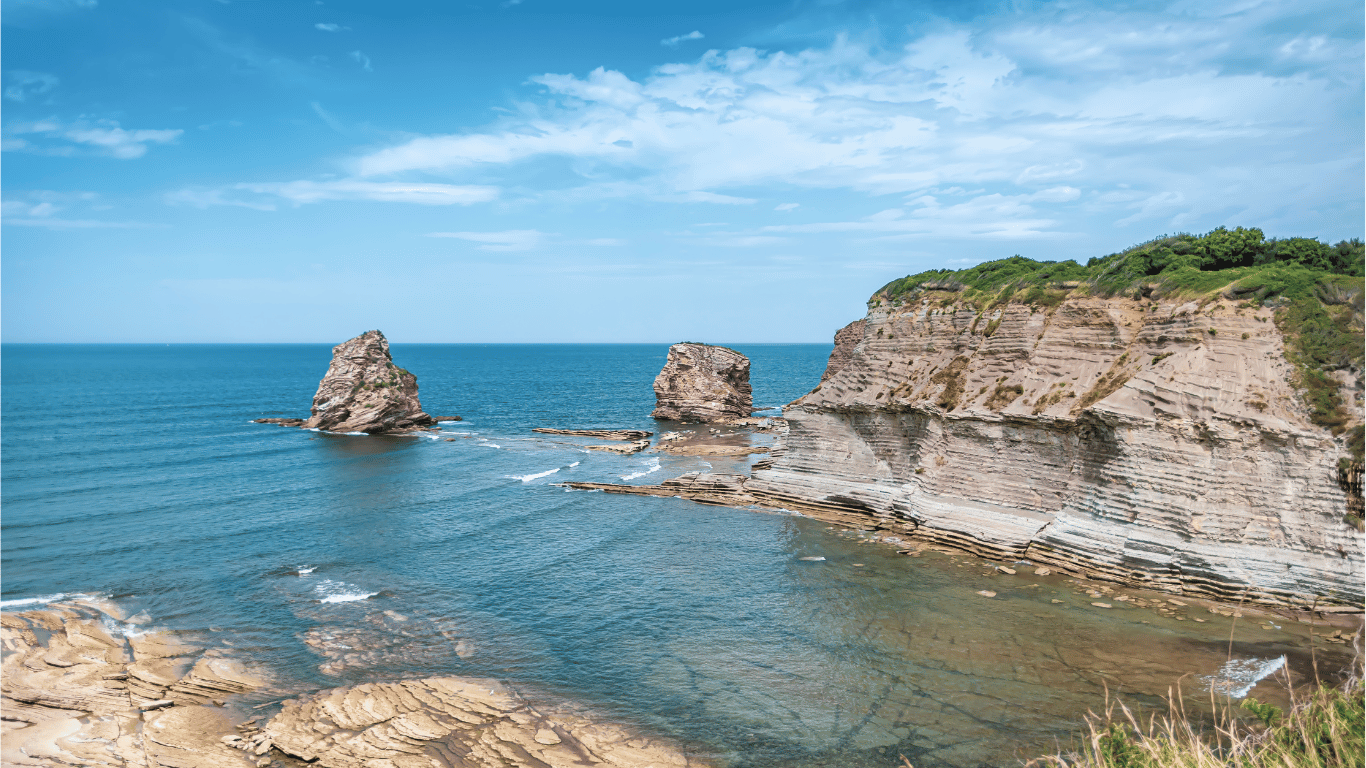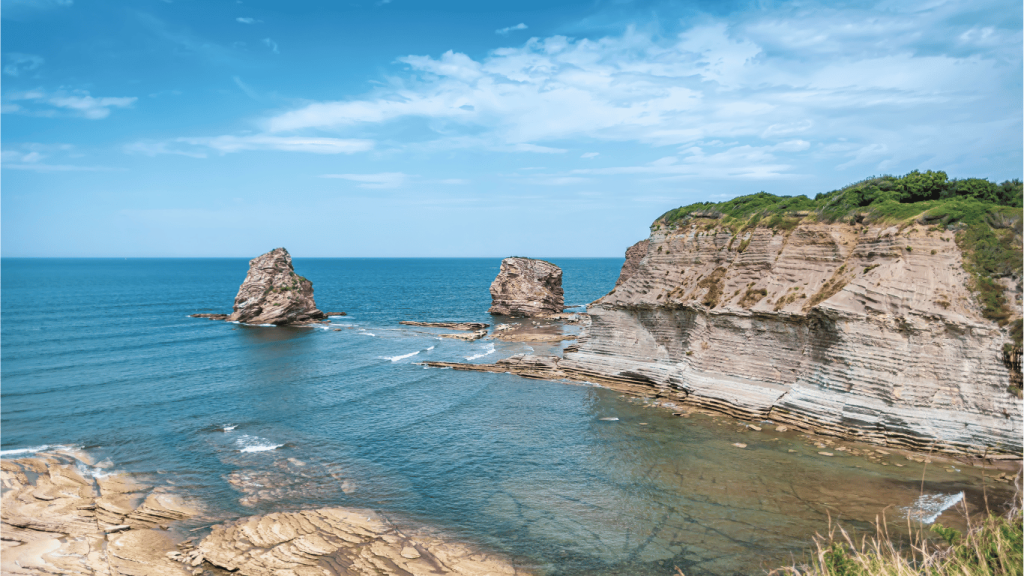 A beachfront promenade offering a variety of restaurants, clubs, and leisure activities for tourists and locals alike.
5. Moroccan Cuisine: Delicacies to Savor in Casablanca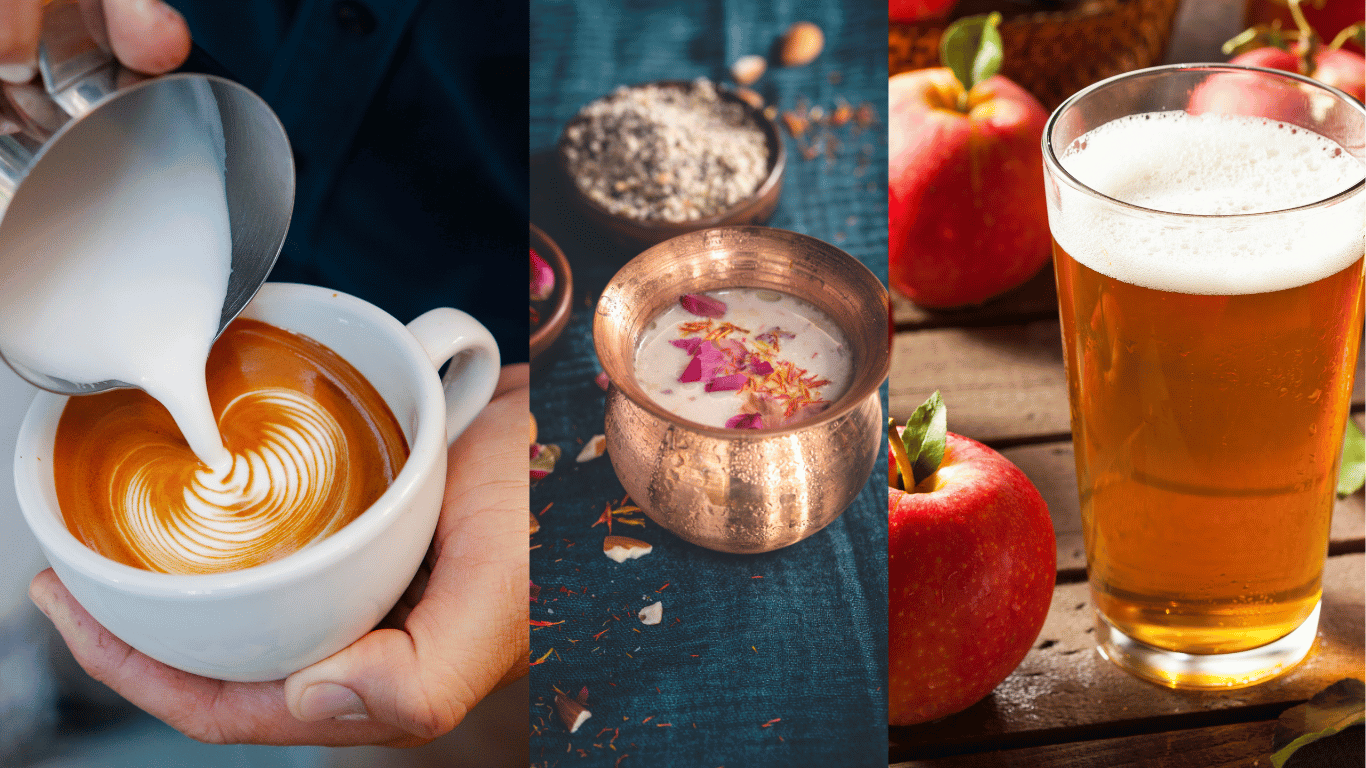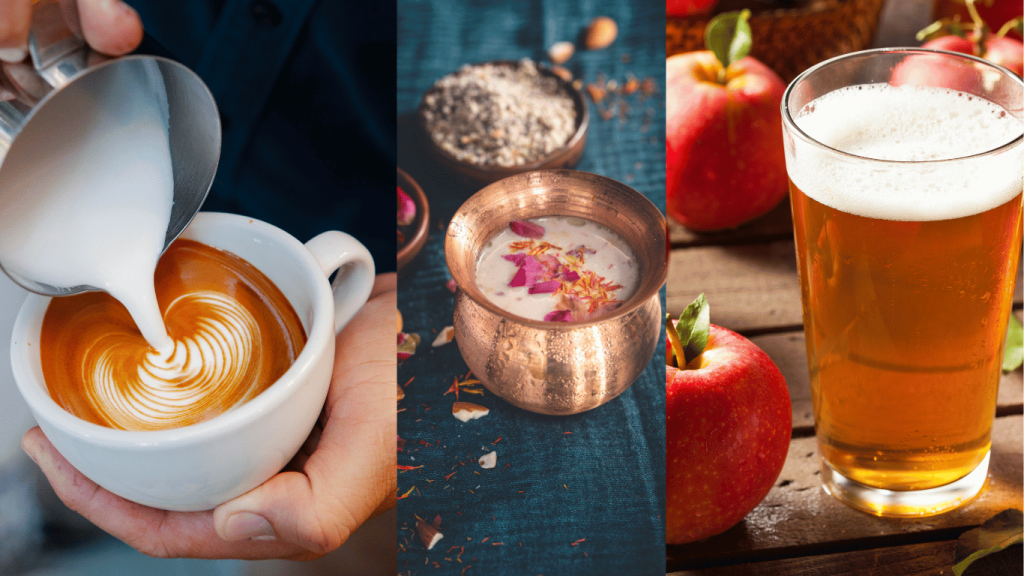 Indulge in authentic Moroccan flavors at these popular local eateries:
Rick's Café
Inspired by the film Casablanca, this restaurant serves traditional Moroccan dishes in a 1940s setting.
Le Cuisto Traditionnel
Known for its seafood tagines and couscous, this charming spot offers an authentic Moroccan dining experience.
Al Mounia
A longstanding favorite for locals and visitors, Al Mounia serves up a mix of Moroccan and Andalusian cuisine in an elegant atmosphere.
6. Marrakech: The Red City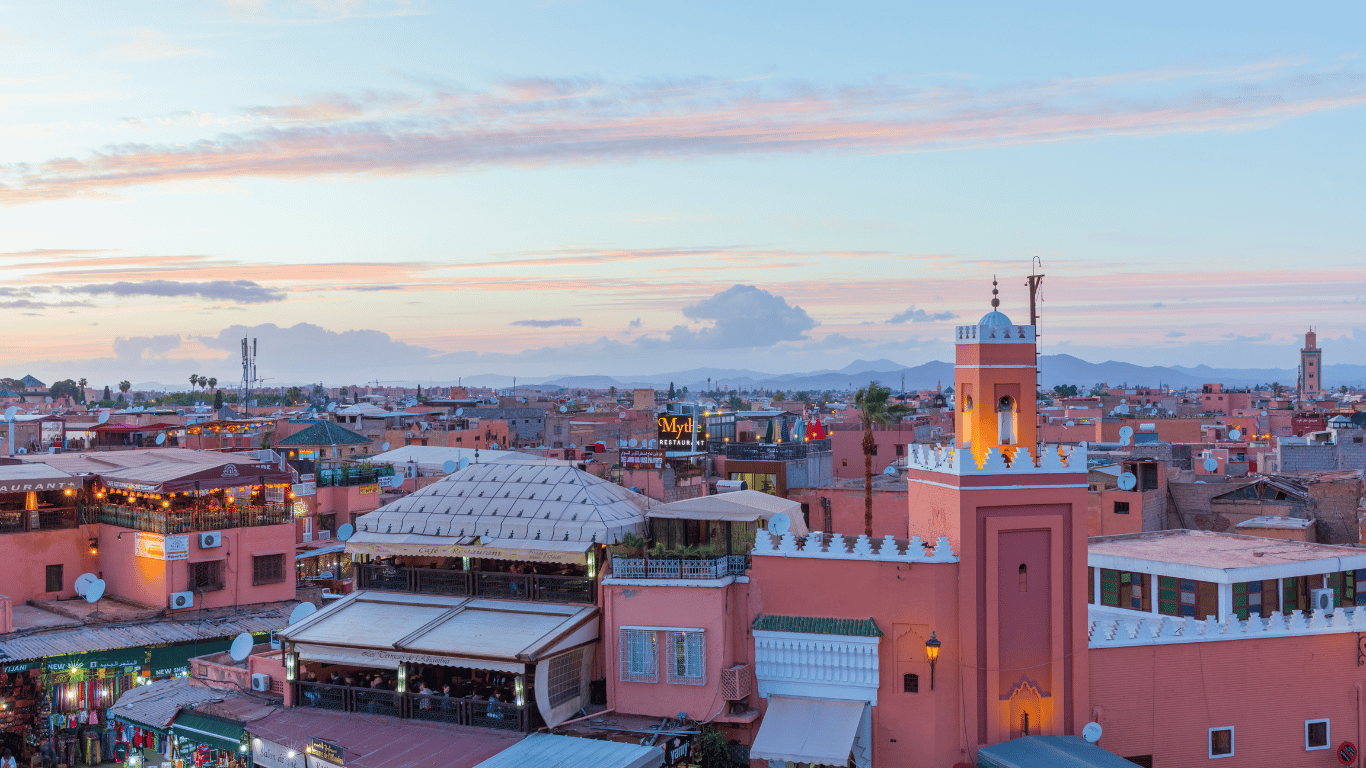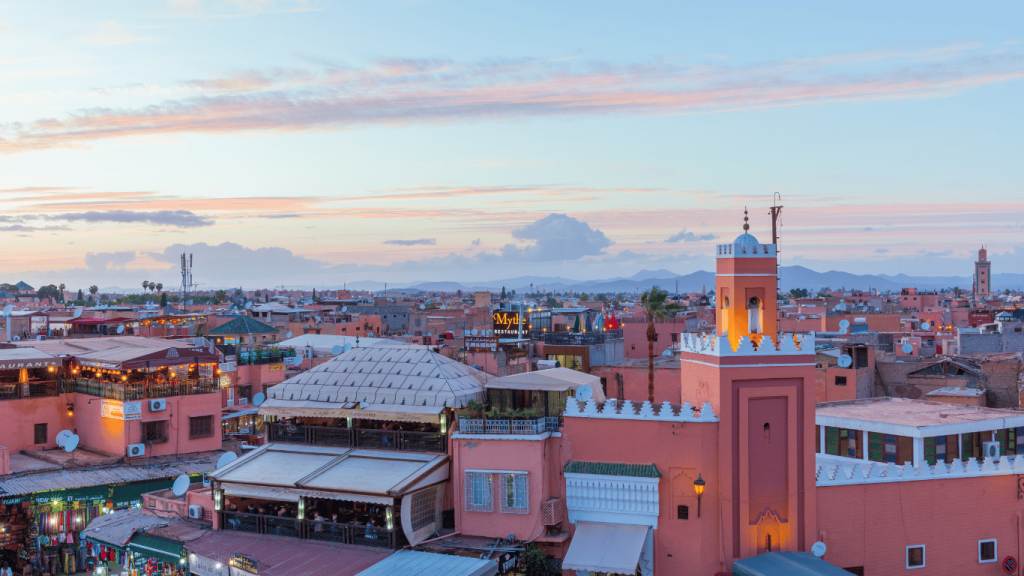 Marrakech nicknamed the "Red City" due to its red sandstone buildings, is a vibrant and enchanting destination. Its bustling medina, vibrant souks, and historic palaces create an unforgettable atmosphere.
7. Top Attractions in Marrakech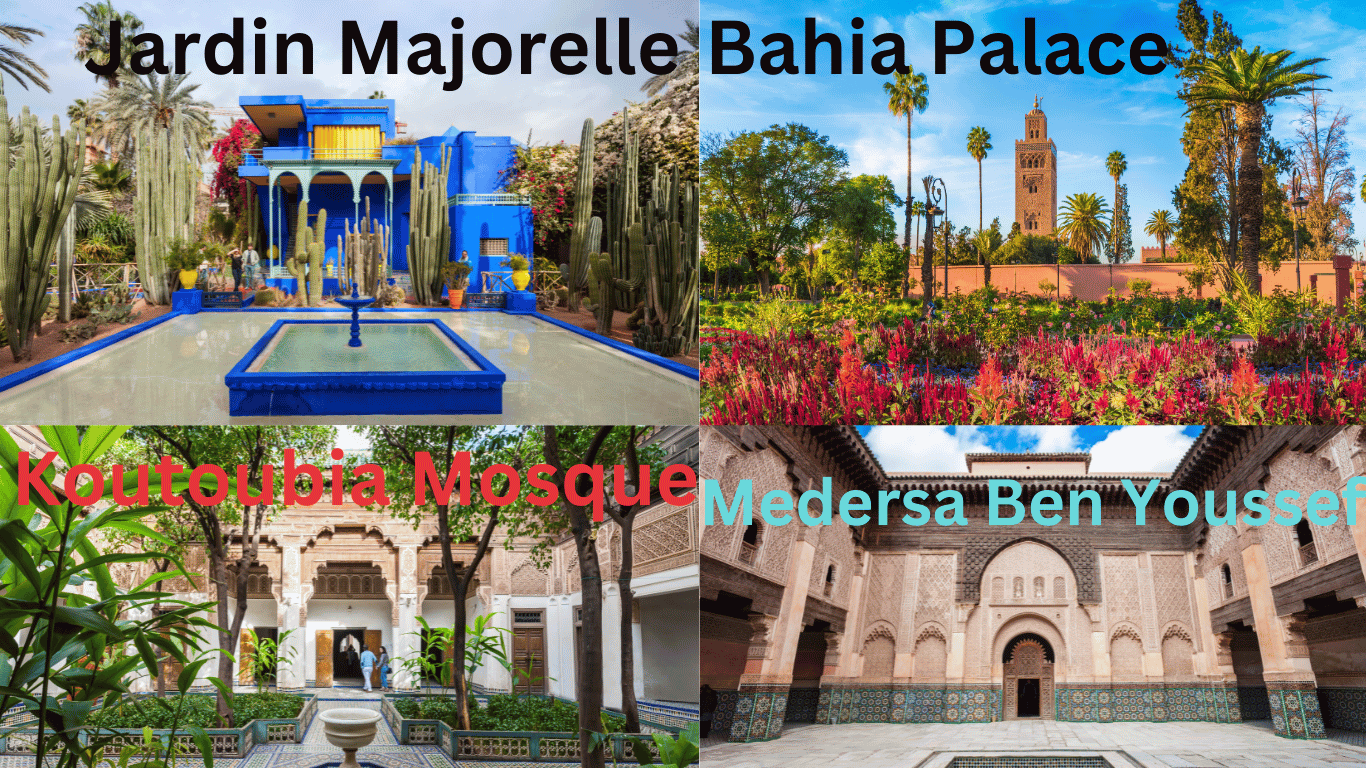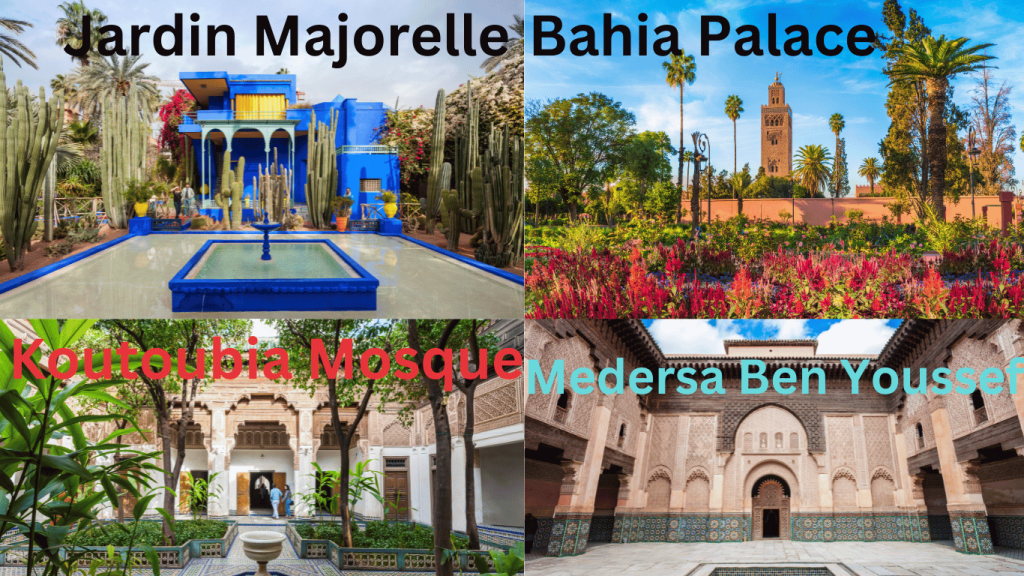 Don't miss these must-see attractions in Marrakech:
Jardin Majorelle
A stunning botanical garden featuring exotic plants, fountains, and the vibrant blue Villa Oasis, once owned by the fashion designer Yves Saint Laurent.
Bahia Palace
A masterpiece of Moroccan architecture, this 19th-century palace boasts beautifully decorated rooms, courtyards, and gardens.
Koutoubia Mosque
Marrakech's largest mosque is recognizable by its iconic minaret. Non-Muslims are not permitted inside, but the exterior and surrounding gardens are worth admiring.
A historic Islamic college showcasing exquisite architecture and intricate tilework.
8. Experiencing Marrakech's Culinary Delights
Savor the flavors of Marrakech at these top dining spots:
Le Comptoir Darna
A stylish restaurant and lounge offering a fusion of Moroccan and international cuisine, accompanied by live music and belly dancing performances.
Dar Yacout
Set in a traditional Moroccan palace, this fine dining establishment serves classic Moroccan dishes in a luxurious setting.
Nomad
A trendy rooftop restaurant offering a modern take on Moroccan cuisine with an emphasis on fresh, local ingredients.
The souks (markets) of Marrakech are a labyrinth of colorful stalls selling everything from spices and textiles to leather goods and jewelry. Popular souks include:
Souk Semmarine
The largest souk in Marrakech, offering a wide range of products, including clothing, pottery, and carpets.
Haddadine Souk
Known for its skilled artisans, this souk is the place to find exquisite metalwork and lanterns.
Souk Cherratine
A must-visit for leather enthusiasts, this souk offers a variety of bags, shoes, and jackets.
10. Tips for a Safe and Enjoyable Journey
To ensure a smooth and enjoyable trip between Casablanca and Marrakech, keep these essential tips in mind:
Dress Modestly
Morocco is a predominantly Muslim country, so it's important to dress modestly and respect local customs. Avoid revealing clothing and opt for loose, comfortable attire.
Learn Some Basic Phrases
While many Moroccans speak English, knowing a few basic phrases in Arabic or French can go a long way in making connections with locals.
Bargain Wisely
Haggling is a common practice in Moroccan souks. Don't be afraid to negotiate prices, but do so respectfully and with a smile.
Stay Hydrated
The Moroccan climate can be hot and dry, so make sure to drink plenty of water to stay hydrated throughout your journey.
Be cautious with street food: Moroccan street food can be delicious but may not always adhere to the same hygiene standards as restaurants. If you choose to indulge, opt for popular stalls with high turnover to ensure the freshness of the food.
Stay Vigilant
As with any tourist destination, pickpocketing and scams can occur. Keep your belongings secure and be cautious when approached by strangers offering unsolicited assistance.
Conclusion
A journey from Casablanca to Marrakech promises an unforgettable Moroccan adventure. From the bustling city streets of Casablanca to the vibrant souks and historic landmarks of Marrakech, these two cities offer a captivating blend of tradition and modernity. By following this comprehensive guide and embracing local customs, you'll be well-equipped to experience the best that Morocco has to offer. So, gather your belongings and brace yourself for an unforgettable expedition!